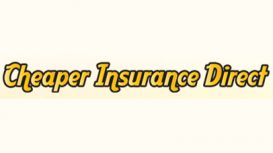 No one enjoys purchasing insurance. With the possibility of visiting comparison sites, brokers, or purchasing directly online, the yearly hassle becomes confusing and time consuming as you try to find the policy that suits you best at the lowest possible price.
There is an easier option. Running for over 10 years now, Cheaper Insurance Direct is Britain's best kept secret when it comes to purchasing insurance, with thousands already benefiting from their unique service. The name says it all; 'Cheaper Insurance Direct' certainly lives up to their claim to sell you the cheapest insurance available on the market without compromising your cover.
Some people fall into the trap of believing if they've tried all the comparison sites they'll find the best quote but according to Cheaper Insurance Direct this is definitely not the case. On most occasions they are able to offer something better with another provider and as they only quote for major insurers you can be confident you'll be well covered should you need to make a claim.
How do they do it? Cheaper Insurance Direct have full access to the whole insurance market – unlike brokers and comparison sites – and will call you back with the best quote on the market for you within an hour. Cheaper Insurance Direct take just ten minutes of your time to understand your specific situation before using their expertise to search out the company that is tailor made to meet your needs perfectly. They can talk to you frankly about the details of your policy, cutting out the meaningless jargon that is so often thrown at consumers.
---
Services

Are you tired of searching for Car insurance? Question after question… How many kids do you have? Where do you park your car? What's your dog's name? Over and over and over. Don't waste your time. Fill out one form, one company, one quote – and leave it to the best company on the market.
How is it possible? Come to Cheaper Insurance Direct. We offer a personal, friendly service and go the extra mile to save you time and effort shopping around. On average we save our customers over £200 on Car insurance. And that's not all, we are also experts in saving you £££s on Home, Van, Life and Business insurance too.
What's the catch? There is no catch! – Our quotes are free and our already-included fee is only based on your savings, so more of your money stays in your pocket. And we'll even match or improve your level of cover too.
So just how do we do it? Unlike other insurance agents and comparison sites, Cheaper Insurance Direct have access to all the major insurance providers and we use our expertise to provide you with the best policy at the very best price. Our advisers take just a few minutes of your time to get to know you and your needs. Within 2 hours we'll call you back with the best policy the entire market has to offer. Every year we do a fresh search of the market to make sure you don't have to pay an extra penny for insurance ever again!
Reviews and Ratings
We do not have any reviews about Cheaper Car Insurance available right now.